Da Bears Shop Favorite Places


Nothing To Do With Teddy Bears



In our conversations with our collectors, we have noticed that a lot of you have the "privilege" of having a cat(s) in your home. Click on to the kitty to read an article that at the beary least you should get a chuckle out of.





But This Does...

Here's a beary cute cartoon and a humorous news article
click the teddy bears for another chuckle or two.



Click 100 Aker Canyun And Sing Along To House On Pooh Corner

House on Pooh Corner
by Kenny Loggins

Christopher Robin and I walked
Under the branches lit up by the Moon
Posing our questions to Owl and Eeyore
As our days disappeared all too soon
But I've wandered further today than I should
And I can't seem to find my way back to the Wood

So help me if you can I've got to get
Back to the House on Pooh Corner by one
You'd be surprised there's so much to be done
Count all the bees in the hive
Chase all the clouds in the sky
Back to the days of Christopher Robin and Pooh

Winnie the Pooh doesn't know what to do
Got a honey jar stuck on his nose
He came to me asking help and advice
And from here no one knows where to go
So I sent him to ask of the Owl if he's there
How to loosen a jar from the nose of a bear...


If You Visit Knoxville - Please Stop At

HOMESPUN CRAFT MALL



The Home Of Da Bears Shop



If You Visit South Carolina - Please Stop At

HOMESPUN CRAFTERS MALL



Another Home Of Da Bears Shop




Teddy Bears On The Net - The Original and Best Teddy Bear Site




Teddy Bear Artwork




The Teddy Bear Museum Of Naples




BEARAHOLICS ANONYMOUS




Good Bears Of The World




More Favorite Places Here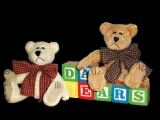 Da Bears Shop Main Page


E-MAIL: DABEARSSHOP@COMCAST.NET
Da Bears Shop
7914 Gleason Dr #1125
Knoxville TN 37919
865 691 0149

Like Them or Not - These Pages Designed By Da Bears Shop